Wrongful Death Claims in Auto Accidents
Sept. 30, 2022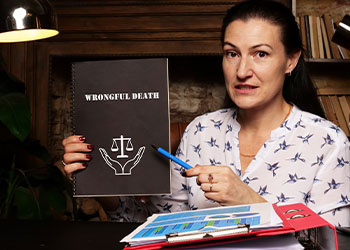 According to the most recent crash data from the Georgia Department of Transportation (GDOT), there were more than 330,000 crashes statewide in 2020, resulting in 1,730 fatalities. The negligence or wrongful actions of a driver can cause a traffic accident which may lead to another person's death. Thankfully, Georgia personal injury laws allow the surviving family members of the decedent to recover damages for their loved one's untimely death through wrongful death claims.
At Chambers & Aholt, LLC, we are poised and ready to support, advise, and represent the surviving family members of auto accident victims in their wrongful death claims. As wise Georgia personal injury attorneys, we have the tools necessary to protect your legal rights and help you seek the maximum possible compensation for your unexpected loss. Our firm is proud to serve clients across Decatur, DeKalb, Cobb, Floyd, Gwinnett, Clayton, Polk, Douglas, and Fulton counties, Georgia.
What Constitutes Wrongful Death in Georgia?
Wrongful death can be described as a death that happened as a result of the careless, intentional, negligent, or wrongful act of someone else. According to Georgia law – Georgia Code Section 51-4-1:
A "wrongful death" occurs in "all cases in which the death of a human being results from a crime, from criminal or other negligence, or from property which has been defectively manufactured, whether or not as the result of negligence."
Why File a Wrongful Death Claim?
There is no amount of monetary compensation that will be enough to bring back the deceased person. Nonetheless, filing a wrongful death claim can help the survivors achieve the following:
Recover Financial Compensation: Filing a wrongful death claim can help provide the surviving family members with the much-needed financial security and support to cover outstanding medical expenses, lost wages, burial and funeral expenses, and loss of companionship and consortium.
Justice for the Survivors: In addition, filing a wrongful death action can help the deceased person's survivors to hold the at-fault party liable and seek justice for the unexpected death of their loved one.
Establish Accountability: Also, filing a wrongful death claim can help hold the responsible party accountable for their wrongful or negligent actions and ensure such an unfortunate event doesn't happen to another person or family.
Who Can File a Wrongful Death Claim in Georgia?
According to Georgia wrongful death laws, the following individuals may be eligible to file a wrongful death claim – on behalf of the decedent – in the following order:
The decedent's surviving spouse.

If there is no surviving spouse, the deceased person's surviving child or children.

If there is no surviving spouse or children, the parent or parents of the deceased person.

If there is no surviving spouse, children, or parents, the executor or administrator of the deceased person's estate.
An understanding attorney can walk you through the Georgia wrongful death claims process and help establish liability.
What Needs Be Proven to Constitute Wrongful Death?
To establish a wrongful death claim in the state of Georgia, you must show that:
The at-fault party owed the deceased person a legal duty of care.

The at-fault party breached the expected duty of care.

A death occurred.

The wrongful or negligent actions of the at-fault party caused the victim's death.

The surviving family members suffered actual damages from the death.
Working with a well-informed Georgia wrongful death lawyer can help protect your best interests, establish negligence, and make sure you bring your claims within the required time limit for filing.
Statute of Limitations
The statute of limitations for wrongful death claims in Georgia is two (2) years from the date of the victim's death. This means that you must commence a wrongful death action within two years of the date the person died.
Damages Available
The following damages are available in a Georgia wrongful death claim:
Medical expenses related to the deceased person's last injury or illness.

Lost wages, benefits, and services.

Pain and suffering experienced by the surviving family members

Funeral and burial expenses

Lost companionship, counsel, advice, and care.

Other necessary expenses due to the victim's injury or illness and death.
Deciding on a bright attorney that can fight compassionately for your family's best interest is essential to help you pursue the deserved financial compensation for your damages and loss.
Turn to Understanding Legal Support
Losing a family member to someone else's negligent, careless, or wrongful actions can be an emotional and unsettling experience. Such an untimely loss can affect you financially and mentally. Regardless, you don't have to suffer all the pain and financial liability on your own. Therefore, if you believe that your loved one's death was caused by a negligent party, you should act quickly and hire a seasoned personal injury attorney for clear advice and to advocate for your rights.
Our team at Chambers & Aholt, LLC, provides compassionate representation and dedicated support to clients in their wrongful death claims. We can investigate all of the aspects of your case and help file the wrongful death action on your behalf. Above all, we will advocate for your best interests, identify and hold the responsible parties liable, and attempt to seek the financial justice that you and other surviving loved ones deserve.
If you have lost a loved one, parent, child, spouse, or someone close to you to another person's negligent action, you may pursue wrongful death damages. Contact Chambers & Aholt, LLC, today to arrange a simple case assessment with loyal wrongful death attorneys. We're proud to serve clients across Decatur, DeKalb, Cobb, Floyd, Gwinnett, Clayton, Polk, Douglas, and Fulton counties, Georgia.