What Are Your Rights After a Rideshare Accident?
July 8, 2022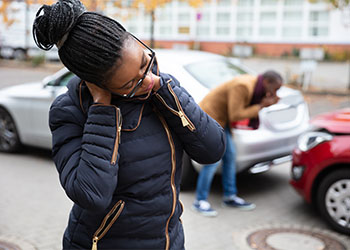 In recent years, rideshare services such as Lyft and Uber have transformed the way people commute by providing valuable transportation options. According to the most recent statistics, Uber completes about 40 million rides per month in the United States. Through technology, innovative ideas, and quality services, these rideshare companies have successfully penetrated and disrupted the taxi cab market. Nonetheless, Lyft and Uber are also susceptible to the hazards of the road – traffic accidents.
If you or a loved one were injured while riding as a passenger in a car accident involving an Uber or Lyft, you may be eligible to seek fair compensation for your injuries. At Chambers & Aholt, LLC, we have the diligence, resources, and expertise to support and represent victims of rideshare accidents in their injury claims.
Using their extensive knowledge, our trusted Georgia personal injury attorneys can attempt to seek the maximum possible compensation for your injuries. We're proud to represent clients across Decatur, Georgia, and surrounding communities throughout Cobb, DeKalb, Gwinnett, Clayton, Floyd, Fulton, Polk, and Douglas counties.
Who Is Liable in a Rideshare Accident?
Georgia is an at-fault auto accident state. According to the state's at-fault system, the driver who caused the accident (at-fault party) will be held financially liable for bodily injuries, property damages, and other accident-related losses suffered by the accident victim. In a rideshare accident, the liable party will depend on the surrounding circumstances or events leading to the incident.
If You Are a Passenger and the Driver Is At Fault
If you were injured while riding as a passenger in a rideshare accident and the driver is responsible, the at-fault driver would be held liable for your injuries and damages.
If You Are a Passenger and the Other Driver Is At Fault
Similarly, if you were injured while riding as a passenger and the other driver caused the incident, the at-fault driver will be held accountable for your injuries and damages.
If Your Car Is Hit By an Uber or Lyft Driver
If you are hit by an Uber or Lyft driver in Georgia, the rideshare driver who caused the collision will potentially have legal liability. However, an exhaustive investigation will need to be conducted to determine whether the Uber or Lyft driver was logged in or not at the time of the collision. Such a determination will be necessary to establish the full extent of liability insurancecoverage that might be available. A knowledgeable personal injury attorney can explore your options to seek damages and determine whether you can sue the rideshare company directly.
Can I Sue Uber or Lyft Directly?
One of the possible options to recover damages for your injuries after an accident involving an Uber or Lyft is by filing an injury claim or lawsuit against the rideshare company. However, both Lyft and Uber are likely to contend their drivers are independent contractors, and that Uber and Lyft have no responsibility for the acts of their drivers. We do not accept such a contention at face value as we believe in most situations, there are facts that demonstrate these companies exhibit sufficient control of their drivers to hold them responsible for the acts of their drivers.
What Should You Do?
The moments following a rideshare accident can be confusing to sort through. However, what you do – or do not do – can affect the outcome of your insurance claims. Here is what to do after a Lyft or Uber accident, where possible:
Stay calm and get to safety.

Seek immediate medical help for your injuries

Report the incident to the police

Gather relevant information such as driver's name, address, telephone number, driver's insurance information, accident scene pictures, and witness statements and testimonies.

Get copies of all documentation, including the police report, medical report, medical treatments, medical bills, and doctor's appointments.

Retain a skilled attorney to help you file your personal injury claims or negotiate a settlement with the insurance companies involved.
An experienced Georgia car accident attorney can investigate every aspect of your unique situation, help you file injury claims, and attempt to recover fair financial compensation for your injuries, damages, or loss.
Work With Experienced Personal Injury Attorneys
Getting injured in an accident involving an Uber or Lyft can be both overwhelming and confusing. The complicated rules regarding who gets covered, who can be held liable, and how much you can recover can make everything even more stressful. Regardless, you don't have to suffer financial liability all alone. Therefore, when involved in a rideshare accident, you need to act quickly and retain a skilled personal injury attorney to advocate for your best interests and help pursue your deserved compensation.
At Chambers & Aholt, LLC, our attorneys are poised and ready to assist, guide, and represent clients in their rideshare accident claims. Using their in-depth understanding of the laws addressing liability in auto accident cases involving Uber or Lyft drivers, our skilled legal team can guide you through the often-complex claims process.
If you or someone you know was involved in an Uber or Lyft accident, you may pursue fair compensation. Contact Chambers & Aholt, LLC today to schedule a simple case evaluation with experienced car accident attorneys. Our trusted legal team has the personalized legal guidance and vigorous representation you need in your injury claims. We proudly represent clients across Decatur, Georgia, and throughout Cobb, DeKalb, Gwinnett, Clayton, Floyd, Fulton, Polk, and Douglas counties.ber