Electric Car Accidents: Black Box & Personal Injury Claims
Nov. 7, 2022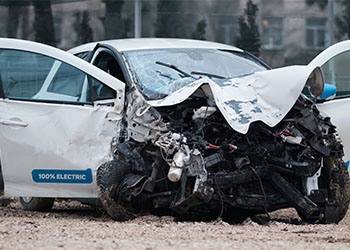 Whenever a plane goes down carrying passengers, news reports will often not only report the incident but also note that "authorities are searching for the black box." An airplane's black box, which is actually orange in color, contains data on actions taken before, during, and even after the accident. From this, the cause of the crash can be identified, and the information might subsequently prove useful in improving safety equipment and safety measures on commercial aircraft.
What most people probably don't realize is that almost any car they purchase will also contain a black box (also probably not black in color) going by the official designation of Event Data Recorder (EDR), which records crash data that can be accessed in an investigation, or potentially in the prosecution of a legal claim. Electronic vehicles such as Tesla have even gone a step further by making access to the EDR's data even easier to retrieve through software applications.
EDR data, however, is generally considered as belonging to the owner of the vehicle, whose permission would be needed – barring a court order or search warrant – if the data were to be accessed. Some insurance companies include in their policies a provision allowing access to the data, so consumers should make themselves aware of any EDR privileges built into their auto policy.
If you or a loved one has been involved in an accident with an electric vehicle (EV), especially one that results in injuries to you or yours, in or around Decatur, Georgia, contact the personal injury attorneys at Chambers & Aholt, LLC. Your first consultation is free, and all injury cases are handled on a contingency-fee basis. You don't pay unless you win.
While Chambers & Aholt, LLC, is located in Decatur, Georgia, we are able to handle cases throughout all of Georgia, including the counties of DeKalb, Fulton, Cobb, Clayton, and Gwinnett.
What Is an Automotive Black Box?
A black box installed on a vehicle, known as an Event Data Recorder, is a device that collects data when a crash or crash-like situation occurs. The duration of the recording maxes out at about 20 seconds, covering actions before, during, and immediately after the accident.
Black boxes are not required on automobiles by federal law, though the National Highway Transportation Safety Administration (NHTSA) proposed a rule in 2014 to mandate their installation on all new vehicles. The regulation was never issued due to unfavorable comments received during the proposed regulation's public review period and because auto manufacturers were already installing EDRs as a routine practice.
According to NHTSA on its website, "EDRs may record (1) pre-crash vehicle dynamics and system status, (2) driver inputs, (3) vehicle crash signature, (4) restraint usage/deployment status, and (5) post-crash data such as the activation of an automatic collision notification (ACN) system."
In practical terms, this means your car's black box can record your:
Vehicle's speed

Acceleration/Deceleration speeds

Steering angles

Tilt of your vehicle

Throttle position

Use of brakes (or failure to use)

Force of impact

Airbag deployment times

Whether you were wearing your seat belt
Electric Vehicles and EDRs
Both fuel-powered and electric vehicles employ Event Data Recorders, but electric vehicles, Tesla, in particular, are making access to the recorded data more accessible. The data is still considered to belong to the owner of the vehicle by federal law, although 13 states – Georgia not among them – have passed laws allowing easier access.
Generally speaking, accessing an EDR's data requires the permission of the vehicle's owner, a court order, or a search warrant.
Tesla, however, now provides free public software and an online service that generates an EDR report in PDF format. Of course, this is mainly intended for use by the owner of the vehicle or by those who are granted access, but it facilitates a process – EDR data retrieval – that previously required expensive hardware devices and trained technicians.
Using Black Box Information in a Personal Injury Claim
Many vehicular accidents turn into one driver may allege this or that happened, while the other may allege the opposite. Unless there are unbiased witnesses to confirm one version, the claim can hinge on who provides the more convincing story or even on who looks and acts more believable in front of a jury or on the phone with claims adjusters.
Accessing the data in a black box can more accurately pinpoint the actions of each driver and can do so in an unbiased way. The EDRs merely record what goes on during the 20 seconds of the crash involving the movements of the vehicle and the actions taken by the driver. Of course, all of this once again gets back to the issue of accessing the data, which is generally off-limits without a court order or search warrant.
Fortunately, electric vehicle manufacturers – led by Tesla – are taking steps to make the data more accessible so that retrieval does not require trained technicians using expensive equipment. This may help courts rule in favor of requesting EDR data retrieval, knowing that it can be done through the simple use of an online service or publicly available software.
Rely on Trusted Legal Advocacy
If you or a loved one has been injured in a collision with an EV in or around Decatur, Georgia, contact the personal injury attorneys at Chambers & Aholt, LLC immediately.
We will review the circumstances of the accident and advise you of your best options going forward to obtain the just compensation you seek for your injuries and other losses and damages. If EDR data is involved, we can press for its retrieval if you end up filing a personal injury lawsuit.
Remember, you are not responsible for any fees unless we win for you and obtain compensation for your injuries and damages. Reach out immediately.